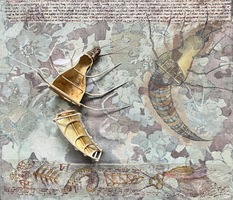 Insects on English Roses
The 'Insects on English Roses' assemblages are constructed from found materials and mounted on wooden panels measuring 30 cm x 35 cm.

The wooden panels have been covered with 'English Roses' upholstery cloth. The cloth has been overpainted with coloured acrylic glazes.


The changes of scale and the disparate origins of materials found in 'the world at large' are combined to share the fragility of insect life forms in various stages of birth and decay.



---
---
---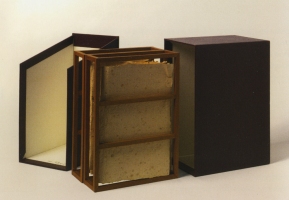 Sketch-of-Book
Etchings, printed in red ink, on handmade paper; accordion folded, fixed in wooden, hinged frame in cloth-covered slip-case.


---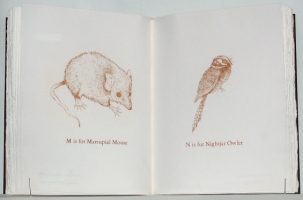 A-Z of Australian Animals
Hand-made papers; hand-set letterpress; hand-bound with linen and leather covers presented in a slip case; images printed from etched copper plates. Edition of 75 signed and numbered copies; the first 25 copies have been hand-coloured by the artist with artists quality watercolours and bound in fine French leather. The remaining 50 copies, printed in sepia ink, are linen-bound.
---
---
---