A fleeting idea is captured as it flies past my senses: between the pages of a book or a sound, a touch, a fragrance or a spoken word peeping over the window's edge of my subconscious. Some strands of perception are suddenly knitted together between my inner and outer worlds: a metaphor I seem to recognise, a way to say something about someone or something without seeming banal.
Intimacy matters. Drawing catches a thought, an idea, uncritically and in all its freshness. Drawing on everyday life without rehearsal. Perhaps there is a kind of poetry and a deeper, more complex narrative in the drawing of a moment than in artworks that require hours of arduous application.
Drawing is a kind of code of communication between the very ancient and the very new in art. Drawings from the past inform the drawer of the future.
I am informed. I inform.


---
---
---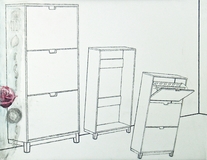 Ikea Suite
I assembled an Ikea shoe cupboard for our foyer at home. It was a complicated exercise but nevertheless successful, thanks to the illustrated assembly instructions provided in this mass-produced flatpack product.
These drawn instructions are quite elegant. They communicate intricate information using simple images, for millions of people to understand: remove something from the images and the instructions don't make sense, add something and they would be confusing; a reductive, economical visual language.
I am using image fragments from these minimal, elegant, how-to-assemble instructions in the "Ikea Suite". All of the "Ikea Suite" drawings are in graphite (with a little colour) on 50.0 cm x 65.0 cm polyester drafting film.
---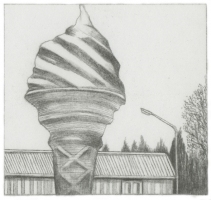 Doorwedge Chronicles
These graphite drawings on Tru-Grain transparent film are scaled up versions of a series of tiny collages.
In a hardware store in Paris, I bought a packet of tiny, rectangular wooden wedges. They seemed at the time very Duchamp-esque. I subsequently discovered they are designed to slip between doors and floors to hold the doors open. In the packet there were twenty-one wedges, three each of seven different sizes. The sizes range from circa 1.9 x 2.3 centimetres through to the largest which are circa 4.9 x 6.1 centimetres.
I took these little wooden panels out of their packet and stood them on a shelf in a long row with the sharp edges of each wedge pointing upwards. They looked like twenty-one empty chapters from a story waiting to be told.
Using cut and paste, I covered each little panel with narrative-rich collages beginning with the "Man with the Red Bowtie", the narrator of the "Doorwedge Chronicles"
There is also an oil paint on gessoed wood panels version of the series (see Paintings).