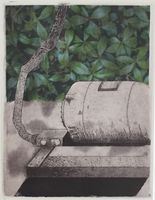 Skopelos/Plants and Electrics
In 2010 I spent some of the summer season in Greece on the beautiful island of Skopelos with colleagues and friends Belinda Fox, Mikael Kihlman, Barbie Kjar, Adam Rish, Peter Sharp, Garry Shead, Gary Shinfield and Judy Watson.
We worked at the Skopelos Art Foundation studios with master printers Basil Hall and Mats Unden
http://www.basilhalleditions.com.au/
I am working on several series of etchings based on my impressions of the island's landscape, its history and mythology. I draw inspiration from its ancient landscape forms and also from the Skopelos Museum, a former private house in a small street. Its collection of antiquated domestic objects, pottery, remnants of woven cloth and models of fishing boats tell stories of the industry and customs linking Skopelos to the mythologies which lie deep in Greece's culture and language.
---