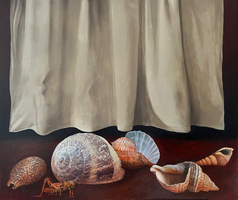 Insects
The 'Insect' series of paintings and assemblages has been made possible through the generous support of the Stiftung Kunstfonds, Germany.

The works in this series are inspired by the structural and textural qualities of a variety of insects.

These works explore the delicacy of the insect life forms by combining changes of scale from nano through to landscape images.
---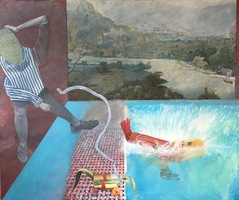 Household Pets in a Digital World
Household Pets in a Digital World

Squeaky colored pool toys in front of Himalayan peaks, animal bodies made of pots and pans, people with giraffe necks and binocular eyes - it is a surreal world into which Christopher Croft's paintings entice the viewer. But these paintings point with force and at the same time with poetry to very real threats to the world in which we live: from environmental pollution and overproduction, to alienation, dehumanization and the dominance of the modern West over the Old East.
The Australian artist's most recent series comprises six large-format paintings with six preparatory drawings. It bears the title:
Household Pets in a Digital World
. Christopher Croft had the initial idea for this in a Parisian park, where he was fascinated to observe how the animals displayed there fashionably matched their owners. He transformed the park scenes into the digital world in which everything flows and everything seems possible. There, the figures, painted with captivating precision, are assembled using the "copy & paste" system - as a hotchpotch world in which unity and order no longer prevail. They appear disconnected from reality, groundless, and thus devoid of responsibility.
It is not an optimistic view that Christopher Croft takes of the world, but an enlightening one, and in the details often a very humorous and warm-hearted one. The high-contrast images are full of quotations and allusions - to Pieter Brueghel, to Edvard Munch, to Alexander von Humboldt. It is a series that may seem like a riddle at first glance. But on closer looking, the great stories that each of these pictures has to tell are revealed.
Dr.Peter Münch
---
---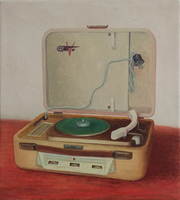 Kleine Fenster
Die verschiedenen Serien mit insgesamt vierundzwanzig Bildern (nicht alle sind hier gezeigt) sind über einen Zeitraum von sechs Jahren entstanden.
Die von Objekten aus meinem unmittelbaren Umfeld inspirierten Bilder haben fast tagebuchartigen Charakter. Dabei verfolge ich kein spezifisches Thema, sie sind schlicht Fragmente aus meinen Alltagsleben.
Begonnen habe ich mit den Serien "Kleine Fenster" 2011 in London, kurz nachdem ich die "Türstopper-Chroniken", kleine Kollagen auf Holztafeln, beendet hatte (http://www.christophercroft.com/collages/doorwedge-chronicles). Mein Wunsch war, weiter an kleinformatigen Bildern zu arbeiten, die (als Reproduktion) viel größer wirken würden.
Jede der kleinen Holztafeln misst 18 x 20 cm. Die Proportion von 9 zu 10 schien für ein horizontales wie für ein vertikales Format gut zu funktionieren. Besondere Freude machte mir auch die Herstellung der Tafeln an sich und die Vorbereitung des Malgrundes mit "Acryl Gesso". Jede dieser Holztafeln wurde mit fünf Gesso-Schichten grundiert. Nach dem Trocknen schliff ich die Pinselstriche auf den einzelnen Grundierungsschichten mit feinem Sandpapier glatt. Die letzte Schicht habe ich poliert, um eine glatte Oberfläche zu erhalten. Als die Holztafeln schließlich fertig vorbereitet waren, erweckten sie an sich schon den Eindruck kostbarer Objekte. Die konzentrierte und präzise Arbeit an jedem einzelnen Motiv erschien mir da nur angemessen.
Ich nenne die Serien "Kleine Fenster", weil sie zwar keine Miniaturen, aber dennoch relativ klein sind. "Fenster", weil jedes Bild auf seine Art und Weise eine unvollständige Geschichte erzählt. Jedes Bild zeigt, in Großaufnahme, einen kleinen Ausschnitt aus einer viel größeren Welt.

---
---
---